Characteristics of Goats
Goats are not the smelly, stubborn creatures that they have been commonly portrayed, as in such children's stories as The Billy Goats Gruff.
They are known with the common names of 'Billy' for male goats, and 'Nanny' for female goats. Better terms to use are buck for the male goat and doe for the female.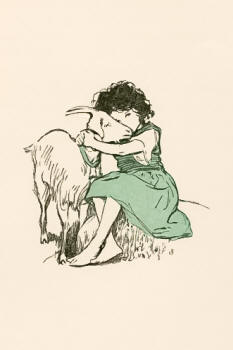 Heidi Hugging A Goat
Copyright
Goats are wonderful creatures, intelligent, affectionate, docile and very accommodating, and they make ideal pets.
There are many goat breeds, all of which are bred for differing purposes, including meat, milk and fibre.
Each goat breed has different characteristics, although there are some generalities.
One such characteristic is their love of routine.
Goats are not stupid animals, as you will quickly find out if you own them.
Goats are excellent climbers.
Given even the smallest of chances, they will find a way to get over even five foot fences, or open gates that are not properly latched. They are great escapologists and if there is a way out, they will find it.
Goats can run very fast, so if you don't want to spend the better part of your day chasing goats, the secret is to provide them with lots to do to keep them amused and mentally stimulated, so they do not become bored. Heavy duty latches on the gates, are an essential investment.
Goats should never be kept alone, without other goats; even with other animals, or given lots of human attention. Goats need other goats to be completely happy.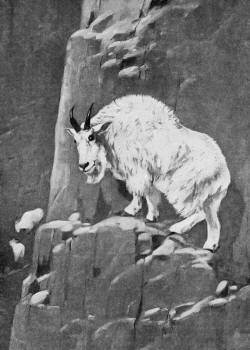 Goats Love To Climb
Rocky Mountain Goat
Copyright
They are generally quite friendly creatures and love to spar with each other and play such games as "King of the Castle", if given a pile of pallets to play with. They will even play "Hide and Seek" with you.
They will rarely fight aggressively, although the male goats may fight a bit more seriously during rut, which is the male version of being on 'heat' during the breeding season. Ideally males should be separated, to avoid injury throughout this time.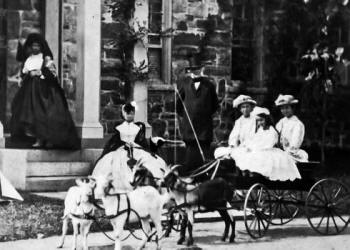 Children in a Goat Cart in Front of House
Copyright
Goats also like spending time with their owners and ideally work to build a bond, with your animals. Don't just leave them in a field somewhere and ignore them.
If they are kept in a field, provide some sort of shelter. Unlike other animals goats do not like to get wet and will run inside at the first sign of rain.
Remember that goats do need time outside. They should not be shut into a building or stable, but allowed freedom of at least a yard, or area where they can wander in and out of the shelter and where they can get easy access to fresh water.
Goats are marvellous creatures that deserve love and affection. They revel in human companionship, as well as in the company of other goats.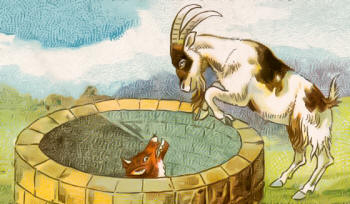 Goats Are Curious Animals
The Goat And The Fox
Copyright
They are intelligent and playful. Goats will provide hours of entertainment, because of the antics they frequently get up to. You will find being in the presence of goats to be relaxing and enjoyable.
Keywords:

a goat, all breeds of goats, , all goat breeds, all goats, angora goats, big goat breeds, billy goat, black and white goat, black and white goats, black goats, Boer goat information, Boer goats information, breed goats, breed of goat, breed of goats, breeding goat, breeding goats, breeding goats for milk, breeding of goats, breeds of goat, breeds of goats, breeds of goats for pets, breeds of milk goats, breeds of milking goats, brush goats, caring for goats, cashmere goats, climbing goats, commercial goat farming, common goat breeds, dairy goat farming, dairy goat farms, dairy goats farming, different breeds of goat, different breeds of goats, different goat breeds, different goats, domestic goat, domestic goat breeds, domestic goats, farm goats, farming goats, gestation period for goats, gestation period of a goat, gestation period of goat, gestation period of goats, goat, goat baby, goat birthing, goat breed, goat breeding, goat breeding age, goat breeding cycle, goat breeding farm, goat breeding harness, goat breeding season, goat breeds, goat breeds for milk, goat breeds for milking, goat breeds for pets, goat business, goat care, goat cart, goat dairy farm, goat dairy farming, goat dairy farms, goat diet, goat ears, goat family, goat farm, goat farm design, goat farmer, goat farming information, goat farming project, goat farms, goat farms for sale, goat fences, goat food, goat gestation, goat gestation period, goat health, goat horns, goat husbandry, goat keeping for beginners, goat livestock, goat management practices, goat pregnancy, goat pregnancy period, goat raising 101, goat reproduction, oat sim, goat species, goat varieties, goat websites, goatery farm, goatery farming, goats, goats as pets, goats breed, goats breeding, goats breeding cycle, goats breeds, goats breeds for milk, goats care, goats farm, goats farming, goats farms, goats for, goats head butting stuff, goats on cliffs, good goats, got farm, gote farm, how to breed goats, information on goats, keeping Boer goats, keeping dairy goats, keeping goats, keeping goats for meat, keeping goats for milk, keeping pygmy goats, kinder goats, lamancha goat, lamancha goats, lamancha goats information, large goat, large goat breeds, large goats, largest goat, largest goat breed, largest goat breed in the world, line breeding goats, livestock goat, livestock goats, long eared goats, long haired goat breeds, long haired goats, milk goat breeds, milk goats breeds, milking goat breeds, milking goats breeds, mohair goats, Norwegian goat breeds, Nubian goat care, Nubian goats care, oberhasli goat, oberhasli goats, osmanabadi goat farming in maharashtra, pet goats, pregnancy period of goat, raise goats, raise goats for meat, raising a goat, raising a goat for milk, raising baby goats, raising Boer goats, raising Boer goats for meat, raising dairy goats, raising dwarf goats, raising goats 101, raising goats for cheese, raising goats for meat, raising goats for milk, raising goats naturally, raising meat goats, raising milk goats, raising milk goats successfully, raising show goats, show goat, show goats, smallest breed of goat, smallest goat, smallest goat breed, smallest goat breed in the world, soft goat, Spanish goat breeds, species of goat, species of goats, sponsor a goat, stall fed goat farming, Swiss goats, the billy goat, toggenburg goats, white goat breeds, white goats, wild goat, wild goat breeds, wild goats,