Hoof Rot And Hoof Maintenance For Goats
Goat's hooves are constantly growing and need periodic and regular checking.
How often to check depends on the rate of growth and this is different for every goat.
Usually it is a good idea to check every two to six weeks.
If the hooves become overgrown, they can cause problems for the goat, especially to the goat's joints and legs and can even affect their back.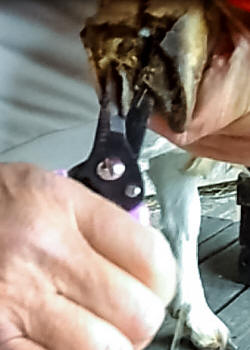 Trimming A Goat's Hoof
Copyright Felicity McCullough
Also, the act of trimming can become a major job with very overgrown hooves because goats do not like standing for long periods of time.
A hoofing kit should be kept to trim your goats' hooves, which consists of hoof shears and a sharp knife, together with clear Purple or Gentian plant based spray, to stop any bleeding, help seal any wound, and to further prevent bacteria from entering any wounds.
Lavender oil can also be used as an antiseptic, after the hoof is trimmed.
Different breeds of goats have different shapes to their hooves, for example, the Guernsey goats have hooves which slightly turn up at the front.
When you are trimming their feet you want to avoid making them look like a pair of clogs.
Also, the pad of skin under the hooves varies between breeds. For example, Pygmies have a hard pad, which can also be pared very carefully, to avoid cutting any blood vessels.
The Procedure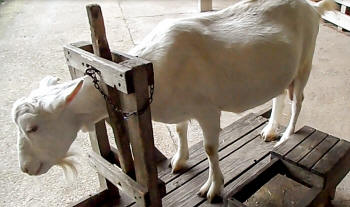 Secure The Goat In a Stanchion
Copyright Felicity McCullough
After placing the goat securely in a goat stanchion, first, you clean the hoof.
It is a good idea to wash the goat's feet thoroughly to remove all the dirt before you start hoof trimming, so that you do not introduce bacteria or germs, or blunt your knife by cutting dirt.
Make sure to remove any packed dirt, or manure from between the two "toes" of the hooves.
Then you trim away any of the excess growth.
You need to make sure that you give a nice flat hoof surface that has good contact with the ground without cutting too much away resulting in bleeding.
If the hoof is uneven with the ground, it will cause the goat to step wrong and result in similar problems as overgrown hooves.
When you start to see pink, you will want to stop cutting.
Some people prefer to use straight-edged or serrated shears, or trimmers while others like to use a very sharp knife to cut the excess hoof away.
Hoof Rot
One problem that can affect goat's hooves is called Hoof Rot.
This is a very painful affliction that causes limping and the skin between the two "toes" to become black and necrotic, with an unpleasant odour.
Goats can get Hoof Rot from the soil, where it can live for about three weeks.
It is very difficult to get rid of once it enters the herd.
If you suspect Hoof Rot in your goats, contact your veterinarian.
Goat Health Problems Topics:
Goat farming, Keeping goats, Raising goats, about goat farming, abscess hoof care, angora goat care, baby goat care, baby pygmy goat care, backyard goat farming, bare hoof care, bare hoof trimming, basic goat care, care and management of goat, care for baby goats, care for goats, care for pygmy goats, care of goats, care of goats as pets, care of pygmy goats, caring for a goat, caring for a pygmy goat, caring for baby goats, caring for goats, caring for goats as pets, caring for pygmy goats, clipping goat hooves, corrective goat hoof trimming, cracked hoof, cure for foot rot, cutting goats hooves, dairy goat care, dairy hoof trimming, domestic goat care, electric hoof trimmer, farming goats, farming with goats, foot rot, foot rot cure, foot rot goats, foot rot in goat, foot rot in goats, foot rot in goats treatment, foot rot in sheep and goats, foot rot symptoms, foot rot treatment, foot scald in goats, goat care, goat care 101, goat care and management, goat care for beginners, goat care information, goat farming guide, goat feet trimming, goat foot, goat foot care, goat foot problems, goat foot rot, goat foot rot treatment, goat health care, goat hoof, goat hoof anatomy, goat hoof care, goat hoof clippers, goat hoof problems, goat hoof rasp, goat hoof rot, goat hoof rot treatment, goat hoof shears, goat hoof trimmer, goat hoof trimmers, goat hoof trimmers for sale, goat hoof trimming, goat hoof trimming stand, goat hoof trimming tools, goat hoofs, goat hooves, goat hooves problems, goat hooves trimming, goat keeping for beginners, goat kid care, goat treatment, goat trimmers, goat trimming stand, goats care, goats farming, goats foot, goats for pets, goats hoof, goats hooves, goats hooves problems, goats keeping, good hoof, healthy goat, healthy goats, healthy guide, healthy hoof, healthy hooves, healthy , goat hoof, healthy topics, hoof anatomy, hoof care, hoof care for goats, hoof care tools, hoof clippers, hoof cutters, hoof health, hoof pad, hoof paring, hoof plane, hoof problems, hoof problems in goats, hoof rasp, hoof rot, hoof rot goats, hoof rot in goats, hoof rot in goats treatment, hoof scald, hoof scald in goats, hoof shears, hoof stand, hoof structure, hoof tools, hoof trim, hoof triming, hoof trimmer, hoof trimmer for sheep and goats, hoof trimmers, hoof trimmers for goats, hoof trimming, hoof trimming equipment, hoof trimming for goats, hoof trimming goats, hoof trimming in goats, hoof trimming kit, hoof trimming knife, hoof trimming stand, hoof trimming supplies, hoof trimming tools, hoof trimming tools , goats, goat hoof care, , goat hoof care tools, goat hoof tools, goat hoof trimming stand, goat hoof trimming tools, goat trimming stand, how do you trim goat hooves, how to care for goat, how to cut goat hooves, how to goat farming, how to start goat farming, how to trim goat hooves, how to trim goat hooves that are overgrown, how to trim goats feet, how to trim goats hooves, how to trim overgrown goat hooves, keeping a goat, keeping a goat as a pet, keeping dairy goats, keeping goats, keeping goats as pets, keeping goats for milk, keeping miniature goats, keeping pygmy goats, mini goats as pets, miniature goat care, miniature goats as pets, mountain goat hoof, mountain goat hooves, mountain goats hooves, natural balance hoof care, natural goat care, natural hoof, natural hoof care, natural hoof care tools, natural hoof trimmers, newborn goat care, nigerian dwarf goat care, nigerian goat care, nubian goat care, nubian goats care, overgrown goat hooves, overgrown hoof, pet goat care, pygmy goat care, pygmy goat care information, pygmy goat care sheet, pygmy goat hoof trimming, pygmy goats as pets, pygmy goats care, raising goats as pets, saanen goat care, shear magic hoof trimmer, sick baby goat care, sick goats treatment, small goats as pets, symptoms of foot rot, treating hoof rot in goats, treatment for foot rot, treatment for foot rot in goats, treatment for goat, treatment of foot rot, trim goat hoof, trim goat hooves, trim goats hooves, trimming goat feet, trimming goat hooves, trimming goats feet, trimming goats hooves, trimming overgrown goat hooves, trimming pygmy goat hooves, trimming stand, what is hoof trimming,