How To Avoid Hoof Rot And Scald
The condition of a goat's hooves is important to its health.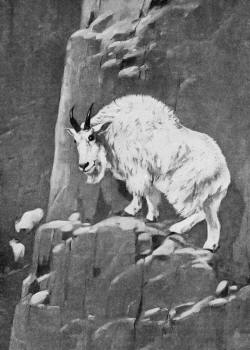 Climbing Mountain Goats
Copyright
Hooves are continuously growing. Under natural conditions, goats live in mountainous regions. The ground is normally rocky and the goats are constantly climbing, which wears down the hooves naturally. Domesticated goats do not have this benefit.
It is the goat keeper's responsibility to take care of the hooves.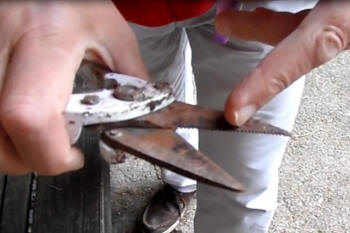 Goat Shears
Copyright Felicity McCullough
Hoof care is done roughly every 4 to 6 weeks.
Timing depends on how fast the hoof grows, and this is an individual trait. This means that each goat's hooves grow at a unique rate.
When the hooves are overgrown, they will need to be trimmed. Goats do not like to stand for too long in one place, so if you wait too long, it will take a long time to finish trimming and cause unnecessary stress to your goat.
The best place to perform this trimming is in a milk stand, or stanchion, where the goat can be kept occupied with food and, at the same time, is well secured and is at a comfortable height for you to work.
The Procedure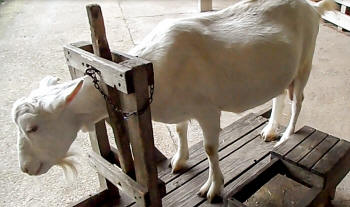 Secure The Goat In a Stanchion
Copyright Felicity McCullough
Procedure: After securing your goat, remove any dirt, manure or debris, including stones from underneath the soles with a knife, or any other suitable tool.
Wash the soles with water and soap. This is for two reasons: (1) To prevent infection, should the hooves be cut too deeply and (2) Dirt will dull clippers very quickly.
Using the clippers, or a knife to cut away excess hoof, be careful not to go too deep to cause bleeding.
You want to avoid trimming too much off the back of the hooves to avoid slipper foot, which is where their feet goes back on the heels.
The goal of hoof care is, of course, healthy hooves.
There are some health problems that can crop up from time to time. These include Hoof Rot and Scald, which are both highly contagious. Fusobacterium nodosum and Actinomyces pyogenes are common bacteria which can lead to these problems. Hoof Rot is especially difficult to get rid of once it occurs.
Hoof Rot is characterized by a black, necrotic area between the "toes" of the hooves with a foul odour.
The first symptom shown is usually lameness.
Scald also takes place between the "toes," although it is usually due to an area of moisture that does not dry.
This can be caused by wet grass, for example.
These problems can be treated with antibacterial foot baths, however goats do not like to get wet. Also, these products tend to stain the goat's hair, which can be a problem if the hair is to be sold.
Goat Health Feet Problems Topics:
Goat farming, Keeping goats, Raising goats, about goat farming, abscess hoof care, angora goat care, baby goat care, baby pygmy goat care, backyard goat farming, bare hoof care, bare hoof trimming, basic goat care, care and management of goat, care for baby goats, care for goats, care for pygmy goats, care of goats, care of goats as pets, care of pygmy goats, caring for a goat, caring for a pygmy goat, caring for baby goats, caring for goats, caring for goats as pets, caring for pygmy goats, clipping goat hooves, corrective goat hoof trimming, cracked hoof, cure for foot rot, cutting goats hooves, dairy goat care, dairy hoof trimming, domestic goat care, electric hoof trimmer, farming goats, farming with goats, foot rot, foot rot cure, foot rot goats, foot rot in goat, foot rot in goats, foot rot in goats treatment, foot rot in sheep and goats, foot rot symptoms, foot rot treatment, foot scald in goats, goat care, goat care 101, goat care and management, goat care for beginners, goat care information, goat farming guide, goat feet trimming, goat foot, goat foot care, goat foot problems, goat foot rot, goat foot rot treatment, goat health care, goat hoof, goat hoof anatomy, goat hoof care, goat hoof clippers, goat hoof problems, goat hoof rasp, goat hoof rot, goat hoof rot treatment, goat hoof shears, goat hoof trimmer, goat hoof trimmers, goat hoof trimmers for sale, goat hoof trimming, goat hoof trimming stand, goat hoof trimming tools, goat hoofs, goat hooves, goat hooves problems, goat hooves trimming, goat keeping for beginners, goat kid care, goat treatment, goat trimmers, goat trimming stand, goats care, goats farming, goats foot, goats for pets, goats hoof, goats hooves, goats hooves problems, goats keeping, good hoof, healthy goat, healthy goats, healthy guide, healthy hoof, healthy hooves, healthy , goat hoof, healthy topics, hoof anatomy, hoof care, hoof care for goats, hoof care tools, hoof clippers, hoof cutters, hoof health, hoof pad, hoof paring, hoof plane, hoof problems, hoof problems in goats, hoof rasp, hoof rot, hoof rot goats, hoof rot in goats, hoof rot in goats treatment, hoof scald, hoof scald in goats, hoof shears, hoof stand, hoof structure, hoof tools, hoof trim, hoof triming, hoof trimmer, hoof trimmer for sheep and goats, hoof trimmers, hoof trimmers for goats, hoof trimming, hoof trimming equipment, hoof trimming for goats, hoof trimming goats, hoof trimming in goats, hoof trimming kit, hoof trimming knife, hoof trimming stand, hoof trimming supplies, hoof trimming tools, hoof trimming tools , goats, goat hoof care, , goat hoof care tools, goat hoof tools, goat hoof trimming stand, goat hoof trimming tools, goat trimming stand, how do you trim goat hooves, how to care for goat, how to cut goat hooves, how to goat farming, how to start goat farming, how to trim goat hooves, how to trim goat hooves that are overgrown, how to trim goats feet, how to trim goats hooves, how to trim overgrown goat hooves, keeping a goat, keeping a goat as a pet, keeping dairy goats, keeping goats, keeping goats as pets, keeping goats for milk, keeping miniature goats, keeping pygmy goats, mini goats as pets, miniature goat care, miniature goats as pets, mountain goat hoof, mountain goat hooves, mountain goats hooves, natural balance hoof care, natural goat care, natural hoof, natural hoof care, natural hoof care tools, natural hoof trimmers, newborn goat care, Nigerian dwarf goat care, Nigerian goat care, Nubian goat care, Nubian goats care, overgrown goat hooves, overgrown hoof, pet goat care, pygmy goat care, pygmy goat care information, pygmy goat care sheet, pygmy goat hoof trimming, pygmy goats as pets, pygmy goats care, raising goats as pets, Saanen goat care, shear magic hoof trimmer, sick baby goat care, sick goats treatment, small goats as pets, symptoms of foot rot, treating hoof rot in goats, treatment for foot rot, treatment for foot rot in goats, treatment for goat, treatment of foot rot, trim goat hoof, trim goat hooves, trim goats hooves, trimming goat feet, trimming goat hooves, trimming goats feet, trimming goats hooves, trimming overgrown goat hooves, trimming pygmy goat hooves, trimming stand, what is hoof trimming,