How To Choose A Goat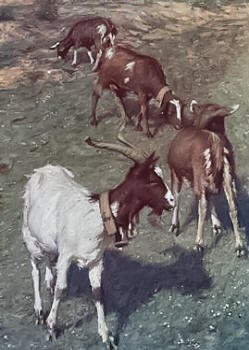 Goat Farming
Copyright
The first thing to consider when you are aiming to keep goats is to ask yourself: 'what do you want the goat to produce?'
Goats are kept for their milk, meat, fibre and companionship, or as a pet. Bear in mind that goats need company and you may have to acquire more than the one goat.
Different breeds are good producers of different things.
For instance, Angoras produce fibres, Boers produce meat, Pygmies are great pets and Saanens can produce the highest milk yields.
There are other breeds that can be dual purpose, where they can produce more than one product.
Yet others produce intermediate amounts of something.
To find information on different goat breeds, research the internet, read books, talk to other goat keepers, breeders and veterinarians.
Go to goat shows. If possible, visit farms where goats are bred and farmed. Spend time with the goats themselves.
The contacts that you make will also come in handy when you have chosen which breed to buy.
Next you will want to find the goats that are for sale. Talk to the same people as above. Also look in at your local feed store.
They usually have a bulletin board with information on local sales.
When you have made a list of goats for sale, you will want to find out information on the individual(s).
If this is your first goat, get someone with more knowledge and experience to go with you and help you out.
You should also look into the breeder. You only want to buy goats from reputable breeders.
Normally goats are disbudded at one to two weeks of age. You should make sure that this was done.
You are looking for healthy goats that have received all the necessary vaccines and have been de-wormed recently.
If there are concerns over certain diseases in the area, you can ask for a negative result for tests. One such test is CAE - Caprine Arthritis-Encephalitis.
If you are planning on showing the goat, this process may be a little more involved.
First, you should look into show rules on the site of the goat breed association, or society related to the breed you want to purchase. They usually will have at least a list of desirable traits for your goat.
Then you will need to compare the goat you are considering for purchase, with the ideal traits list.
Goat Health Problems Topics:
Goat farming, Keeping goats, Raising goats, about goat farming, a goat, about farming, about goat farming, agriculture goat farming, all about goats, animal goat, best dairy goat breed, best dairy goats, best goat breed, best goat breeds, best goat for milk, best goat milk, best goats for meat, best goats for milk, best goats for milking, best meat goats, best milk goat, best milk goats, best milking goats, books about goats, buy a goat, buy a pygmy goat, buy Boer goats, buy farm, buy goat, buy goat meat, buy goat milk, buy goats, buy goats milk, buy pygmy goat, buying a goat, buying goats, commercial goat farming, different goats, farm goat, farm goats, farm of goat, farming goats, farming with goats, goat, goat adoption, goat boarding, goat business, goat buy, goat care, goat farm, goat farm business, goat farm information, goat farm management, goat farm plan, goat farm project, goat farmer, goat farmers, goat farming business, goat farming details, goat farming for profit, goat farming guide, goat farming information, goat farming management, goat farming plan, goat farming profit, goat farming profitable, goat farming project, goat farms, goat firm, goat health, goat help, goat husbandry, goat production business plan, goat purchase, goat raising guide, goat ranch, goat rearing business, goat sellers, goat species, goat steak, goat to buy, goat types, goat varieties, goat websites, goatery farm, goatery farming, goats, goats farm, goats farming, goats farms, goats on a farm, goats to buy, goats types, got farm, got farm information, gote farm, health farms, how to buy a goat, I want a goat, I want to buy a goat, I want to start goat farming, information about goats, information on goats, intensive goat farming, keeping goats, kinder goats, lamancha goats, land required for goat farming, livestock goat farming, local goat farms, modern goat farming, oberhasli goat, organic goat farm, profitable goat farming, purchase a goat, purchase goats, put a goat on it, raising a goat, raising a goat for milk, raising Boer goats, raising dairy goats, raising goats for cheese, raising goats for meat, raising goats for milk, raising goats for profit, raising meat goats, raising meat goats for profit, raising milk goats, raising milk goats successfully, small goat farming business, smallest goat, species of goat, species of goats, stall fed goat farming, start a goat farm, start goat farm, successful goat farming, successful goat farming business, types goats, where can I buy a goat, where can I buy goat, where can I buy goats, where can you buy a goat, where to buy a baby goat, where to buy a goat, where to buy baby goats, where to buy Boer goats, where to buy goat, where to buy goats, where to buy Nubian goats, white goats,